For the ultimate in safety, control, and performance – there's nothing like Gabriel's G-Force™ Technology.
G-Force is the culmination of years of testing and product development efforts; exclusively designed to deliver the perfect combination of safety and
performance that you'll only find in Gabriel® Ultra™ shocks and struts. It's shock absorber technology that other manufacturers simply can't
replicate. We've built a well-earned reputation for innovation by continuously reinventing shock absorber design and technology. It's the only way we
can continue to exceed the expectations of our customers and continue to "ride the independent spirit" for another 100 years.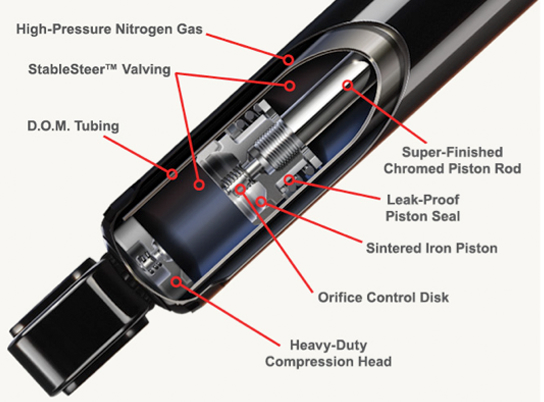 High-Pressure Nitrogen Gas

Quicker response with reduced fade

StableSteer™ Valving

Improves tire contact with the road for safety and control

D.O.M. Tubing

Reduces internal wear for longer product life

Infinitely Variable Damping

Superior on-demand control for all road conditions

Single-Lip Oil Seal

OE-designed single-lip oil seal minimizes friction for optimal comfort and performance

Super-Finished Chromed Piston Rod

Provides superior corrosion resistance, performance and product life

Leak-Proof Piston Seal

Self-compensates for wear, extending product life

Orifice Control Disk

Consistent control for comfort and stability

Sintered Iron Piston

Durability and maximum shock performance

Heavy-Duty Compression Head

Reliable performance under extreme conditions